Deze column staat in Het Financieele Dagblad van 10 maart 2020. Volg deze link voor mijn eerdere FD columns.
Noot vooraf: onderstaande column verscheen een paar weken voordat Nederland in een lockdown terechtkwam vanwege het Coronavirus. Miljarden mensen wereldwijd hebben inmiddels wekenlang thuis gezeten, en zullen nog maandenlang vanuit huis werken. The Washington Post publiceerde op 17 april 2020 een lezenswaardige longread die de link legt tussen virtual reality, het Coronavirus en de versnelde initiatieven in Silicon Valley om de 'Metaverse', het volgende internet gebaseerd op de visie van Neal Stephenson in zijn roman 'Snow Crash', te bouwen. 
Onlangs kondigde Elon Musk, de roemruchte ceo van Tesla en SpaceX, aan dat zijn onderneming Neuralink dit jaar zal experimenteren met haar eerste prototype hersenchip, te besturen met de iPhone. Deze samensmelting van mens en computer spreekt natuurlijk tot de verbeelding. Toch zullen u en ik niet zozeer via deze Neuralink, maar door virtual reality (VR) en augmented reality (AR) in onze computers opgaan.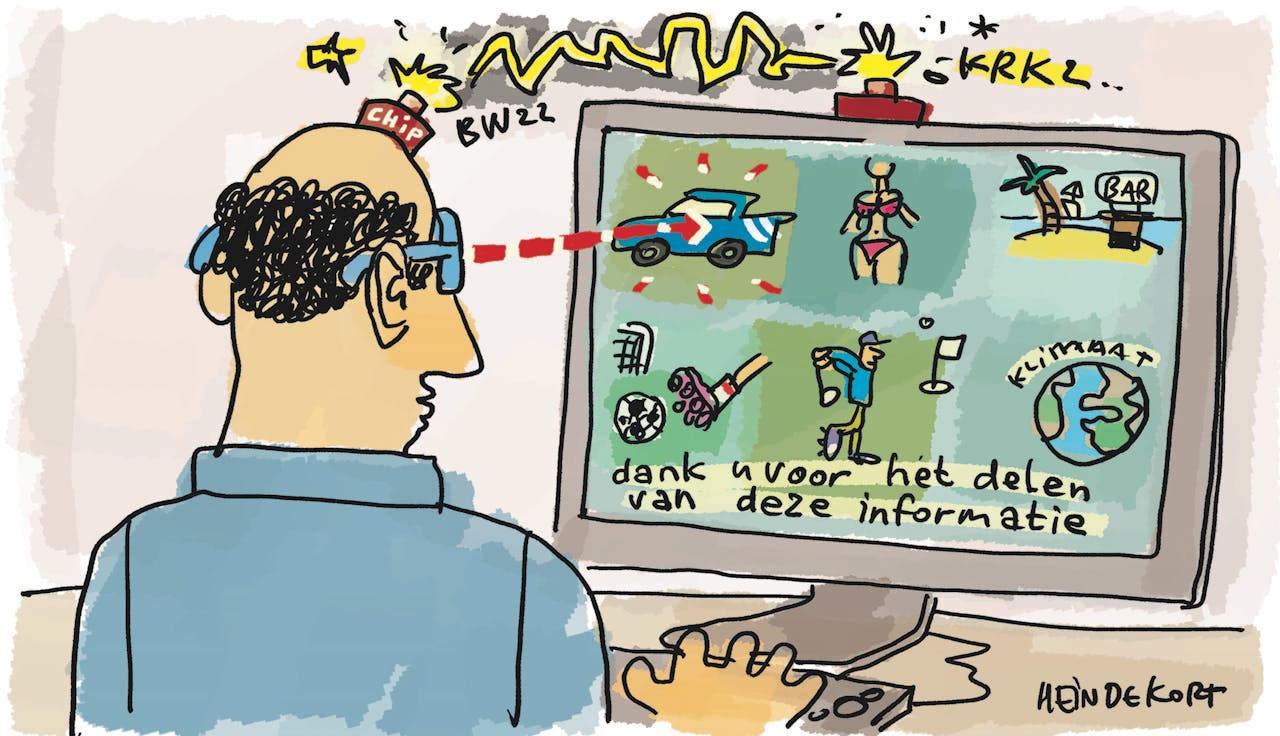 Zakenbank Goldman Sachs becijfert voor het jaar 2025 een wereldwijde marktomvang van $35 mrd voor VR en AR, tamelijk spectaculair gegroeid van $12,1 mrd in 2018. VR en AR worden in nichemarkten als zorg, onderwijs en wetenschappelijk onderzoek al jaren toegepast. Maar de gamingindustrie zal de aloude toekomstvisioenen over de interactie tussen mens en computer in virtuele werelden (VR) en de met digitale lagen verrijkte publieke ruimte (AR) daadwerkelijk naar de massa brengen.
Marketeers likkebaarden bij die gedachte. Frequenter en nauwkeuriger dan cookies op een computer of een vinger op een smartphonescherm, bieden VR-technologie en AR-technologie adverteerders per milliseconde een haarscherp beeld hoe lang een consument naar iets kijkt en welke emotie hij of zij dan beleeft. Deze adverteerdershemel behelst een regelrechte hel voor de privacy en cybersecurity van consumenten. Maar waar privacyperikelen zich maatschappelijk en juridisch uitkristalliseren, zal cybersecurity, of allicht het ontbreken van beveiliging van onze biodata, bepalen of VR en AR daadwerkelijk een volgend tussenstation vormen in de symbiose van mens en computer.
Continue reading 76e FD Column: Virtual reality in games – adverteerdershemel, privacyhel en versneller symbiose mens en computer →