Deze column staat in Het Financieele Dagblad van 14 januari 2022. Volg deze link voor mijn eerdere FD columns.
Het internet der dingen is slecht beveiligd en een bron voor cyberaanvallen. Invoering van een Europese wet die dit tegengaat is broodnodig. Maar de Europese Unie komt niet over de brug, schrijft advocaat Axel Arnbak.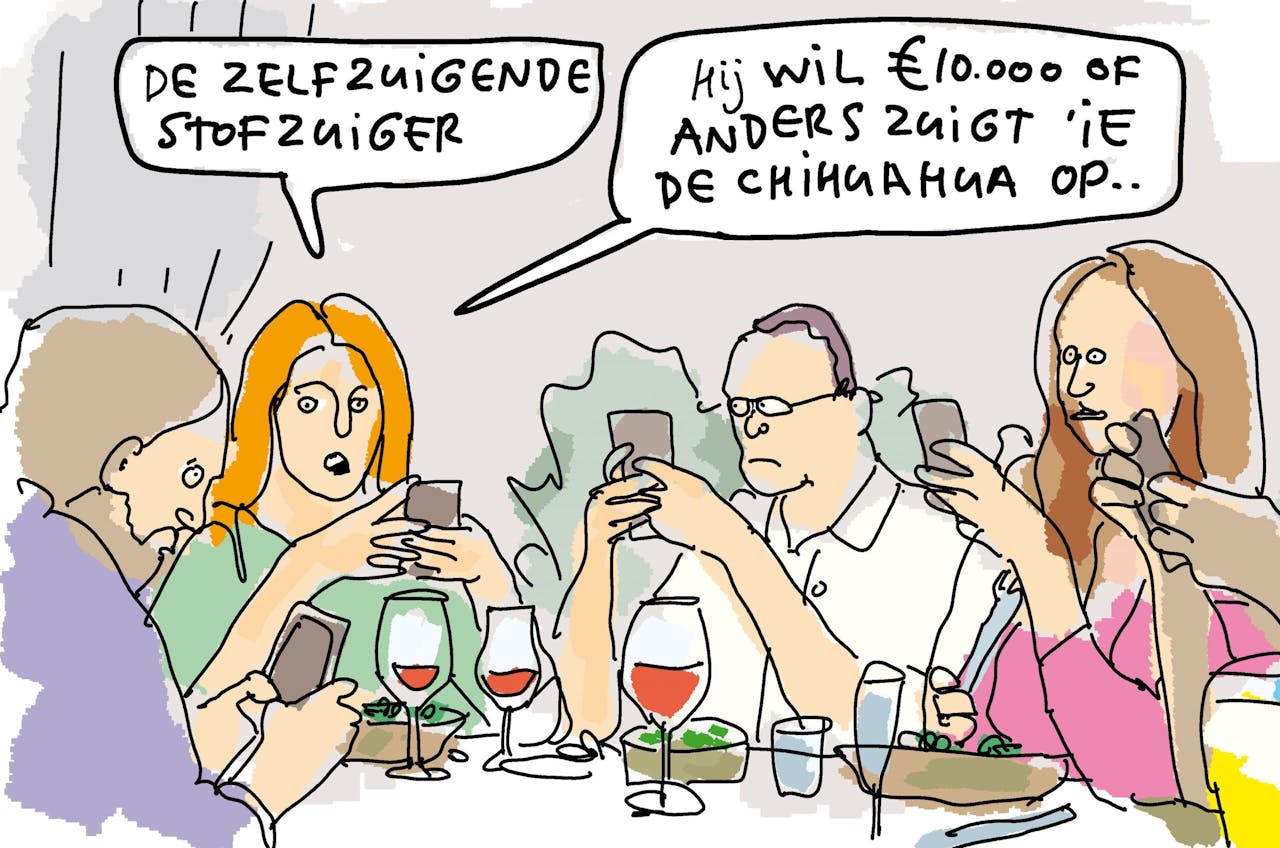 Illustratie: Hein de Kort voor Het Financieele Dagblad
De brakke beveiliging van het internet der dingen (Internet of Things, IoT) is al tien jaar een urgent maatschappelijk probleem. Slecht beveiligde webcams laten criminelen achter de voordeur meekijken of u een dure auto, kunstwerk of tafelzilver bezit. Connected speelgoed blijkt eenvoudig hackbaar en daarmee afluisterbaar via ingebouwde microfoons. Bovendien verbouwen cybercrimegroepen en landen als Rusland al die honderdduizenden kwetsbare IoT's op de markt tot krachtige digitale netwerken voor het lanceren van cyberaanvallen.
Truc
De Europese Commissie (EC) klaagt al jaren en bij herhaling dat de EU-lidstaten en de industrie pogingen tot serieuze cybersecuritywetgeving blokkeren. Daarom gaat de EC soms onder de radar en neemt zij het heft in eigen handen. Deze week gebruikte de EC stilletjes een oude Europese wet over radioapparatuur voor een eigenstandige beleidsbeslissing om alle draadloze internetelektronica die in Europa op de markt komt aan minimumvereisten voor cybersecurity te laten voldoen. De Commissie plakt met deze juridische truc een pleister op een deel van de markt, al geldt de maatregel pas vanaf medio 2024. Zij spreekt daarnaast wederom de hoop uit dat er ooit een volwassen cybersecuritywet komt die niet alleen in bepaalde sectoren, producten of technologieën geldt, maar voor alle apparaten en software.
Haar behendige trucje, dat ons nog 30 maanden niet verder helpt, staat daarmee ook symbool voor de onmacht van de Europese Unie om cybersecurity maatschappijbreed te reguleren en de informatieveiligheid van alle Europese burgers, bedrijven en overheidsinstanties te beschermen. Terwijl de blauwdruk voor zo'n cybersecuritywet er met de Europese verordening AVG al ligt. Continue reading 97e FD Column: Uitblijven cybersecuritywet toont onmacht EU →