Deze column stond in Het Financieele Dagblad van 15 november 2018. Volg deze link voor mijn eerdere FD columns.
Engelse vakbonden liggen niet alleen wakker van de brexit. De belangrijkste Britse vakbond, de Trades Union Congress, sloeg afgelopen maandag ook groot alarm over de wens van verschillende Engelse bedrijven om hun werknemers te injecteren met microchips ter grootte van een rijstkorrel.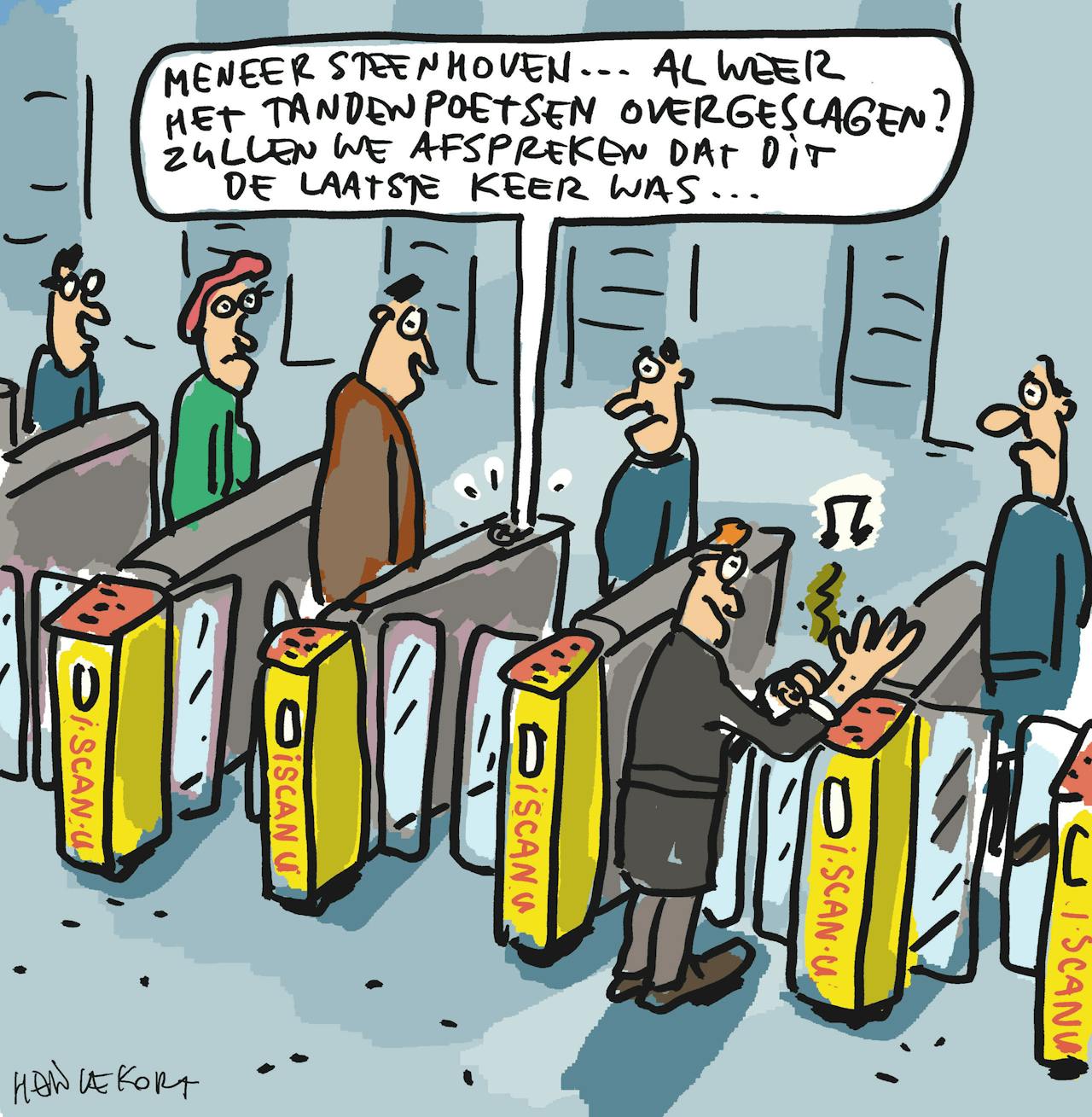 In het artikel 'Alarm over talks to implant UK employees with microchips' berichtte de Britse krant The Guardian zondag dat de Britse leverancier BioTeq en Zweedse evenknie Biohax met allerlei Britse bedrijven hebben gesproken over identificatie en het monitoren van werknemers met behulp van onderhuidse digitale technologie. Vooral financiële en juridische dienstverleners en de hoogwaardige maakindustrie zouden interesse hebben in onderhuidse microchips. 
Gebruiksgemak
Britse accountants en advocaten zullen vast niet morgen al microchips in hun lichaam moeten dulden. Toch is de trend fascinerend. Digitale technologie kroop al achter de voordeur en in onze broekzak. De volgende barrière is ons lichaam. De symbiose van lichaam en technologie reikt al veel verder dan de meeste mensen denken en kent fascinerende toepassingen, vooral voor mensen met een lichamelijke beperking.
Maar welk probleem lost het digitaal brandmerken van de beroepsbevolking eigenlijk op? Verpakt als gebruiksgemak, is de daadwerkelijke wens van zulke microchips de steeds verdergaande controle over het gedrag van werknemers.
Het Engelse Bioteq zou nu bij een bank proefdraaien en spreken met Engelse bedrijven waar wereldwijd tienduizenden mensen werken. The Guardian vroeg het de 'big four' accountancykantoren. KPMG, PwC en EY verklaarden stellig niet te overwegen hun werknemers met microchips te implanteren. Deloitte, interessant genoeg, weigerde commentaar. Biohax heeft in Zweden al bij ruim vierduizend treinreizigers onderhuidse chips aangebracht, in een pilot met de Zweedse spoorwegen waarbij burgers de Zweedse OV-chipkaart onderhuids kunnen laten injecteren.
Volgens Bioteq en Biohax kost een onderhuidse microchip tussen €100 en €300. De goedkope variant verschaft alleen toegang tot de werkruimte, pc of trein via een op de chip geplaatste code of saldo. De dure variant kan twee kanten op communiceren. Om bijvoorbeeld via een app je persoonlijke profiel op je chip te updaten, zodat collega's in een straal van tien meter kunnen zien wat je functie is, of tutoyeren je ding is en wat je hobby's zijn. En op de lange termijn zouden onderhuidse chips kosteneffectief zijn, omdat je ze nu eenmaal niet kwijtraakt. Chips zouden ook data-gedreven besluitvorming mogelijk maken over werkprocessen. De bedrijven laten in de media achterwege de evidente mogelijkheden te bespreken om het functioneren van werknemers te beoordelen op basis van wat de chip over hun gedrag zegt.
Hacken
Bij zulke digitaliseringsambities liggen altijd dezelfde risico's op de loer; in vaktermen bekend als systeemdwang en 'function creep'. De vakbonden zijn terecht bezorgd dat werkgevers de onderhuidse chips op den duur (on)bewust zullen verplichten, en dat de datastromen van eenmaal geïnjecteerde microchips voor steeds nieuwe en verdergaande toepassingen zullen worden gebruikt.
Het begint, precies zoals Bioteq en Biohax propageren, met vrijwillige implantaten om toegangscontrole makkelijker te maken en de belofte verder niks met de data te doen. Een paar jaar later durven werknemers de chip niet meer te weigeren en monitort een werkgever permanent locatie, inlogtijden, bewegingen door kantoor en of je wel vaak genoeg je profiel bijwerkt voor je collega's. En willen politie en inlichtingendiensten de data ook kunnen inzien. Logische strategie van Bioteq en Biohax, overigens. Alle techgiganten zijn gebouwd op dezelfde beloftes en businessmodellen.
Nog los van medische risico's, zien de vakbonden cyber security over het hoofd. De digitale rijstkorrel is namelijk inherent te hacken: als je collega de informatie kan uitlezen, kan een kwaadwillende dat vroeg of laat ook. De belofte van veilige versleuteling op een geïmplanteerde microchip is namelijk onhoudbaar. Op een dag is de hardware van de chip niet meer krachtig genoeg om adequate beveiligingssoftware te draaien. Het is dan kiezen tussen verouderde hardware en software in je hand, of een gehavende hand met een modernere chip.
Dit beveiligingsdilemma, dat ook geldt voor connected pacemakers en het internet der dingen in bredere zin, zullen wij voorlopig niet oplossen. Op de lange termijn, is het kostenargument van de leveranciers dus onzin.
Bovendien kun je alle gepropageerde voordelen met een simpel appje bereiken, terwijl de nadelen van onderhuidse microchips evident zijn: privacy, cybersecurity, systeemdwang, function creep, lichamelijke integriteit en medische zorgen. En toch, ondanks alle bezwaren, wijst het nieuws erop dat de samensmelting tussen mens en computer mainstream wordt.
Macht
Biohacking bestaat al decennia als subcultuur en als prachtige oplossing voor lichamelijke beperkingen, vooral waar doven met behulp van digitale sensoren weer perfect kunnen horen. Hier is het voordeel voor de patiënt zonneklaar. Maar waar technologie is verpakt als vrijwillig gebruiksgemak, is het daadwerkelijke doel het verkrijgen of verstevigen van macht over de consument of werknemer. Net als voor de brexit, geldt voor onderhuidse microchips het aloude adagium 'bezint, eer ge begint'.