Deze column stond in Het Financieele Dagblad van 6 september 2018. Volg deze link voor mijn eerdere FD columns.
Vandaag heeft China te dealen met 'Westerse' uitvindingen als het zeerecht, internet en de Wereldhandelsorganisatie. Morgen dreigt China de technologische realiteit voor het Westen te dicteren. Een verdeeld Westen dient zich nu met urgentie te bezinnen op de vraag wat een menswaardig bestaan is in een hypertechnologische wereld waarin Chinese technologie ons leven gaat beïnvloeden.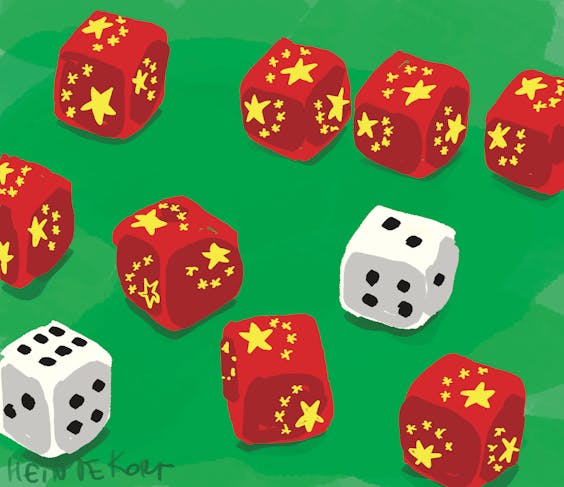 Decennialang legden vooral de VS en de EU de technologische en ethische fundamenten onder de netwerksamenleving van vandaag, zoals connectiviteit en het communicatiegeheim. In China bestaat al jaren binnen de 'Great Firewall' eenafgeschermde, nationale netwerksamenleving waarin niet vrijheid van de mens maar gehoorzaamheid aan de overheid de norm is. En nu krijgt de nieuwe wereldmacht steeds steviger grip op de ontwikkeling van de mondiale technologische omwentelingen van morgen, zoals kunstmatige intelligentie (KI) en kwantumcomputing.
Urgentie vereist

Trage Europese Unie en afbrokkelende VS moeten menswaardig alternatief bieden in een hypertechnologische wereld waarin Chinese technologie ons leven gaat beïnvloeden
De basistechnologieën onder het mondiale internet zijn in de VS en de EU ontwikkeld en doorspekt met idealen over een menswaardig bestaan. Het internet protocol (IP) is bijvoorbeeld een typische Amerikaanse uitvinding: open en inclusief, iedereen kan een computer verbinden en meedoen. Tegelijkertijd is privacy geen kernelement van het IP. Was het IP ooit uitgevonden in het privacybewuste Duitsland van nu, dan was de veiligere extensie IPsec, waarin iedere verbinding meteen ook wordt versleuteld, allicht de standaard geworden. Iedere technologie behelst immers politieke keuzes.
In China is de netwerksamenleving in deafgelopen jaren sneller doorontwikkeld dan in het Westen. De integratie van de online en offline wereld is op alle terreinen, vooral in retail en e-payments, mondiaal leidend. Zelfs Amerikaanse topondernemers zeggen – privé – dat zij het moordende tempo niet kunnen bijbenen. China voert sinds kort ranglijstjes aan van wetenschappelijke publicaties op het terrein van KI en kwantumcomputing. Investeringen in onderzoek door bedrijven en overheid zijn astronomisch en onvergelijkbaar met de trage EU en de afbrokkelende VS, waar president Trump budgetten juist stevig inkort.
Tegelijkertijd draait het surveillanceapparaat van de Chinese overheid op volle toeren. De slotaflevering van Ruben Terlou's VPRO-serie 'Door het hart van China' brengt prachtig in beeld hoe de Chinese overheid nieuwe technologieën inzet om burgers preventief te selecteren op ongewenstheid. Wie in miljoenenstad Shenzhen vijf keer door het rode voetgangerslicht loopt, belandt als paria op een zwarte lijst en komt niet meer in aanmerking voor basisvoorzieningen, zoals een lening.
Ashby's wet

Het Chinese antwoord op een complexe samenleving is om zowel de controlemechanismen alomvattend te maken als onvoorspelbaar gedrag uit te bannen
Eigenlijk past China zo de 'Law of Requisite Variety' (1956) van cybernetics visionair Ross Ashby eng goed toe. Kort samengevat theoretiseerde Ashby dat je een systeem – een lichaam, computer of samenleving – pas kunt beheersen, als zijn controlemechanismen geavanceerder zijn dan de verschijningsvormen van dat systeem.
Dit geniale idee heeft op maatschappelijke schaal verregaande gevolgen. In het relatief vrije Westen snappen beleidsmakers stilaan dat de realiteit te complex is om in kunstmatige algoritmes te vatten. Microsoft lanceerde zonder menselijke interventie een KI-chatbot die zich in de praktijk al snel ontwikkelde tot een smerige racist. Het Chinese antwoord op een complexe samenleving is om, geheel in lijn met Ashby's wet, zowel de controlemechanismen alomvattend te maken alsonvoorspelbaar gedrag uit te bannen. Die idealen gaan, net als het IP destijds, nu deel uitmaken van de hoogwaardige Chinese KI- en kwantumtechnologie van morgen. In China's dystopie dient de mens de centrale overheid, niet andersom.
Wat stelt het Westen tegenover deze Chinese denkwijze? President Trump wil liever twitteren dan mensen helpen. De EU heeft met de veelbesproken aanscherping van de privacywetgeving laten zien dat het mondiaal kan inspireren: recent namen zowel India als Brazilië identieke privacywetgeving aan. De EU ontwikkelt al voorzichtig wat ideeën over KI, maar is nog te weinig ambitieus.
De uitdagingen en concurrentie zijn groot, op het gebied van wetenschap, ondernemingsdrift en vooral de werving van talent. Toch moet Europa mondiaal inspireren door de mens centraal te stellen in de technologie van morgen. Anders wacht ons in de mondiale netwerksamenleving een extreme toekomst.